[ad_1]

Kangana Ranaut
made her directorial debut with '
Manikarnika
: The Queen of Jhansi' and she collaborated with
veteran choreographer Saroj Khan
for two songs 'Tak Taki' and 'Rajaji' in her film. The actress spoke exclusively with ETimes and opened up on her fond memories of Saroj ji, who breathed her last today in Mumbai. Kangana even spilled the beans on an inspiring memory with the choreographer and her favourite iconic numbers of Saroj Khan. Excerpts:
You worked with Saroj ji in your hit films like 'Tanu Weds Manu' and 'Tanu Weds Manu Returns', and most recently, 'Manikarnika'. How will you remember her?
For me, she was like a mother figure and Saroj ji was a woman who was exceptionally talented and who has been through a lot of ups and downs. She had a different kind of connect with young women working and she was very protective. Not just as the choreographer but she used to run her hand through my head gently and sometimes would randomly tell me, 'Just enjoy this phase and don't take too much stress otherwise this industry will completely suck you in.' I remember 'Tanu Weds Manu' because before that I did very traumatic characters and very parallel kind of films. With 'Tanu Weds Manu', Aanand L Rai ji gave me like a little bit dancing, and I was like, 'Aanand ji please I am a big fan of Saroj ji. Can we do that song 'Kajra Mohabbat Wala' and 'Jugni'; she choreographed those for me. She used to tell me, 'Beta jab badi bann jaogi toh mujhe mat bhulna'. So she had that kind of a relationship with me and was very encouraging. I remember her very fondly. I used to be with her and ask her, 'Aapne 'Hawa Hawai' gana kaise kiya?' And she used to tell me wonderful stories about Sridevi ji, Madhuri Dixit, Juhi Chawla, these women that I absolutely adore. Cinema for me has changed so much in our generation but with Saroj ji, the kind of raw talent she was and she brought about this immense what we call Bollywood songs, dances. She has a huge part to play in that. I don't think she got that kind of credit because she brought about a revolution. She was a classical dancer but also gave her own style and that's how Bollywood dancing came about in the 80s and 90s. Because back then when you speak about a superstar actress, you meant a dancer actress. You didn't mean anything else, just a dancer actress.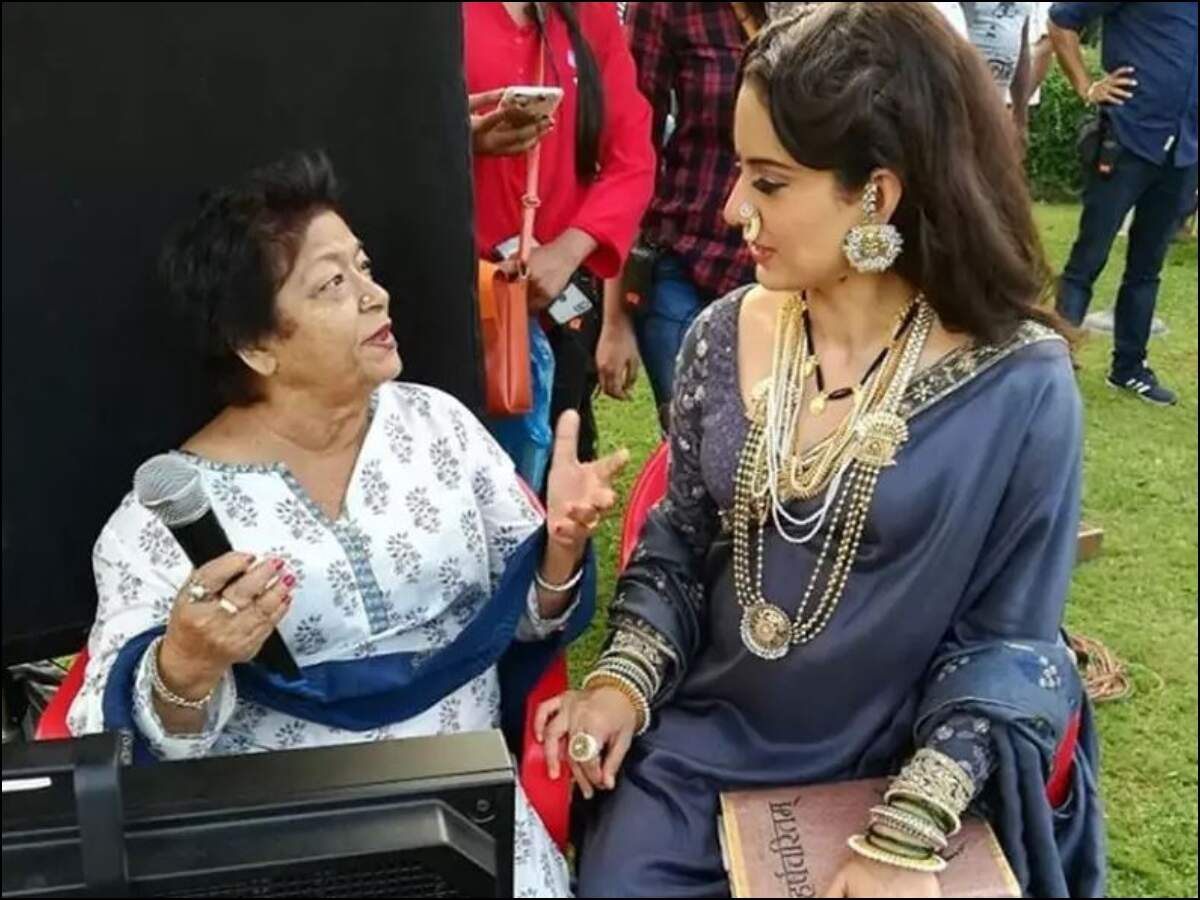 What was the best part about working with Saroj ji?
Best part about working with Saroj ji was the fact that she came from a generation of films where there were individual producers and it was more of a family kind of an environment. Because when we started, we also had studios, even the family systems that have now ventured in to become big studios, it's very corporate like environment. But with Saroj ji, to see a woman taking charge of so many dancers and be on a set to be a choreographer, a dancing director, it was so amazing. The way she wore her salwar kameez, just like my mother, we have never seen a woman like that who is so motherly and who is so gentle. When she would take charge, she would hold the mic, she would completely transform into this very authoritative figure who is absolutely the boss on the sets. The kind of power she had, you had to see her in full action. I can only imagine how she must have been 10 years ago. So fiery and so buzzing with creativity and so eager to be there and to catch up with the times that have changed! In 'Ghani Bawri' also, my dances were not just dances, they were about the situation because my husband is getting married, so I can't be just dancing. But there was a lot of pathos, frustration in expressions and Saroj ji was completely on the same vibration and she was getting everything Aanand ji wanted by giving her own charm to the scenes. I was like, 'just look at her!' I mean so inspiring that I think that void will never be filled.
Any memory or anecdote you would like to share?
Towards the end of her life, she was not doing well in terms of her health and situations. I got a call suddenly when I was directing 'Manikarnika' and she said, 'Beta, tu kya kar rahi hai? Mujhko kaam chaiye. I want to work.' I was shooting for a song and I said, 'Saroj ji come meet me'. I saw her and there were some youngsters from her family. She came out of her car and they were holding her hand and trying to get her on the sets to meet me. I was like wow, how will Saroj ji direct a song? She took the mic from me and she said, 'Kaunsa gaana karna hai?' and I said, 'Saroj ji, let's do this lullaby ('Tak Taki')' because there were not too many movements and I was worried about her health and it was not just about the employment, she just wanted to be on the sets. She directed the love song and lullaby. She was sitting and she was very comfortable because it was not too hectic, it was just a very poetic sort of a song. I was like, it is such a blessing to have her around because, as an artist, when you are used to the light, camera and chaos of the sets, it was amazing to see her. I think that's my last memory of her. This is one thing that I remember clearly about her.
Which song of hers is the most iconic according to you and why?
Saroj ji's songs are all iconic. I was most impressed with 'Hawa Hawai' because as a kid also, when I was very young, I used to love that song every time it came on Doordarshan. I used to run to see it. I asked her about that song where Sridevi closes her eyes and does this very cuddly sort of an expression. I asked, 'Saroj Ji, how did you come up with that?' She said, 'Because every time I put the camera on, she would not do that and she would get conscious about it, but in rehearsal she would do that cuddly expression fine. So I told everyone to roll the camera but don't tell her and that's how she got that expression right.' It was lovely to know that she knew how to extract. It was not just the dance but those cute expressions, the faces that Sridevi was pulling off. 'Mr. India' was a lot about children, so there were a lot of kiddish expressions and it was nice to know it was from her. Of course then, 'Dola re Dola' and there are so many more. Those are my favourites!

[ad_2]

Source link