Ranvir Shorey: I'm cynical now. I've seen too much. Nothing really changes | Hindi Movie News
[ad_1]

Amidst the anger and debate following
Sushant Singh Rajput
's death,
Ranvir Shorey
has been one of the more vocal voices commenting on the functioning of the
cine industry
.
Nila Madhab Panda
, an 'outsider' himself, who has directed Ranvir in '
Kadvi Hawa
' and '
Halkaa
', asks him what's got him so upset and if he thinks anything's really going to change in the
power dynamics
of the industry. Excerpts from the chat:
Nila: As someone who has directed you, as a friend, and as someone who lives in Delhi and Bhubaneshwar, distant from Bollywood, I wanted to understand what has been troubling, making you so vocal the past few days.


Ranvir: Right now, the debate going on is about mainstream Bollywood, it is not about the Indian or Hindi film industry. It is about that group within a group, the top of the pyramid of mainstream Bollywood. Every actor aspires to be at the top, what happens is that you hit a glass ceiling, or you enter the gatekeeper zone where approval of a select few people can give you access to the top, otherwise you keep working for smaller rewards.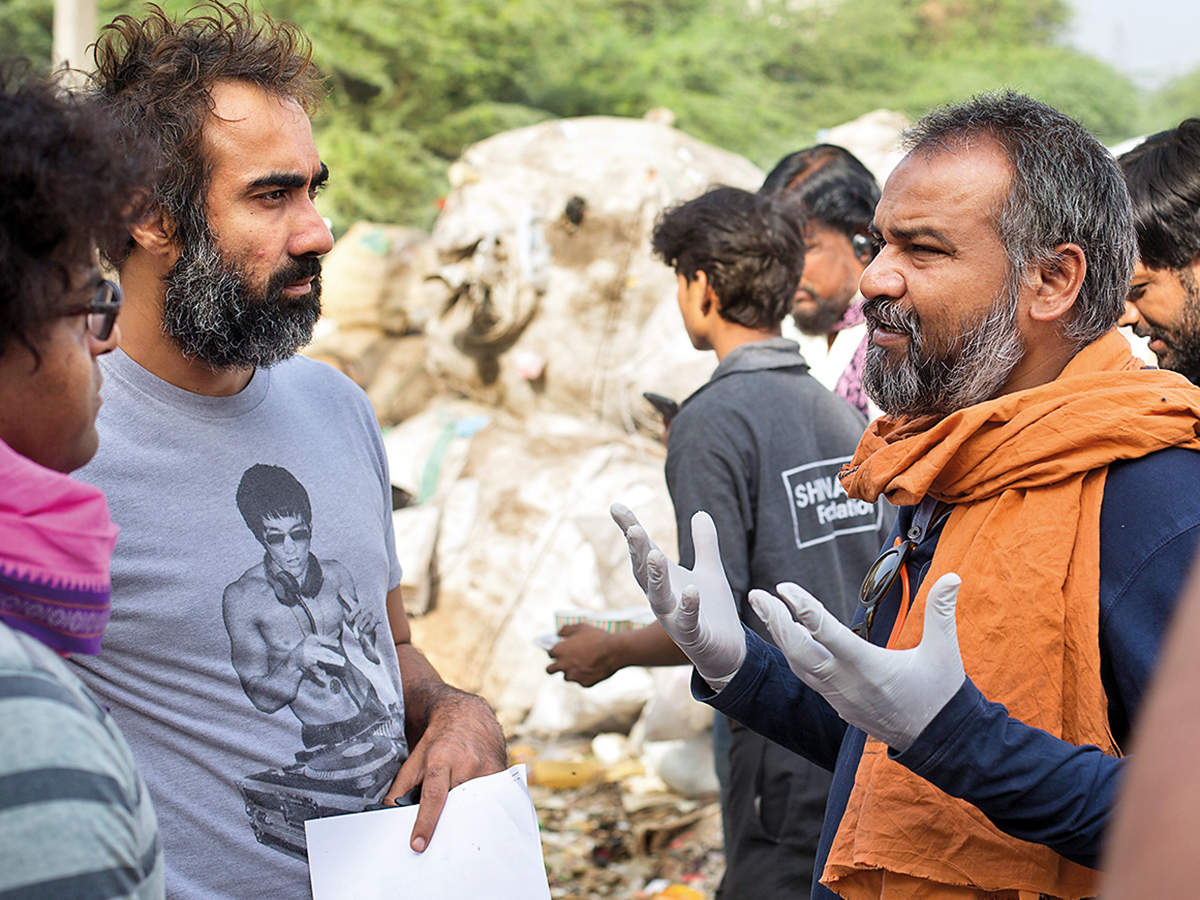 Taking Sushant's example, he had been doing very well on his own. He had blockbusters under his belt but, like even Anurag (Kashyap) mentioned in one of his interviews, he wanted validation from this group, this cabal. These people wield a lot of power in terms of distribution and exhibition of cinema and marketing budgets. Seeking validation from these people is what I think went wrong for him.


Nila: That is a fact for all of us, however independent you are. I sold my house to make a film that everyone loved, but it could never make it big in terms of business as the validation was not there.


Ranvir: No matter how good a film is made, when you are not going to get shows in the cinema halls, what are you going to do?
Dekho agar kisi ke paas power
ho toh accountability
honi chahiye,
agar accountability
nahi hai toh grace
honi chahiye.
Inke paas dono nahi hai. Anybody who has power doesn't want to let go of it. And they end up abusing that power.
Nila: When you were in your mid-twenties or thirties, what was happening then that is reflecting now?


Ranvir: After Sushant's death, I was also devastated, thinking what the hell happened! When the circumstances around his death started being discussed and the names of the people he was involved with started coming out, I was shocked. These were the same names, same people involved at the time when I went through all this in 2003-05, the same circumstances. The psychological pressures were created for him also.
First, you isolate someone at work. And in our business what happens is if you isolate someone at work, their social life is also affected.
Aapko bade banner
ne liya toh aapke dus dost hain, aapko bade banner
ne drop
kiya toh suddenly you have only three friends left. I was reading that his girlfriend was being told by one mainstream director that you better let this guy go or else you will also suffer. Then she also left him. What is the guy left with then? You isolate him socially, professionally, and then one last thing that a young man in his thirties would want to hold on to, his girlfriend, you affect that also. He just didn't know what hit him.
When these things came out and the names of the persons involved were the same that I had suffered at the hands of, with no accountability, that's when I started speaking. And I was upset that if Kangana is talking about this, why are people asking her to keep quiet? Why should she not speak?
Nila: How do we find a way for each of us to work this out?


Ranvir: For the disparity in power for distribution and exhibition, the streaming platforms will be equalisers. Marketing and media will be equalised a little with social media. These things will bring a little relief, but it's not that the world order will change once theatres reopen. The same people will still be in power.
Un logon ko fark nahi padta hai. People like you and me, those who don't enjoy that privilege,
hum log kabhi
aise bol sakte hain, ki kaisi bhi film
bana dete hain, 100 crore
toh ye banayegi hi kyunki shows
toh mere paas hain.
Main aisa performance
de sakta hoon,
ki arey yaar main kuch bhi kar deta hoon, public
toh taali maregi.
Toh incentive
hi nahi hai better
kaam karne ka.
Isiliye inki filmein itni gandi banti hai. Doesn't matter how many crores they make, but they make s**t films.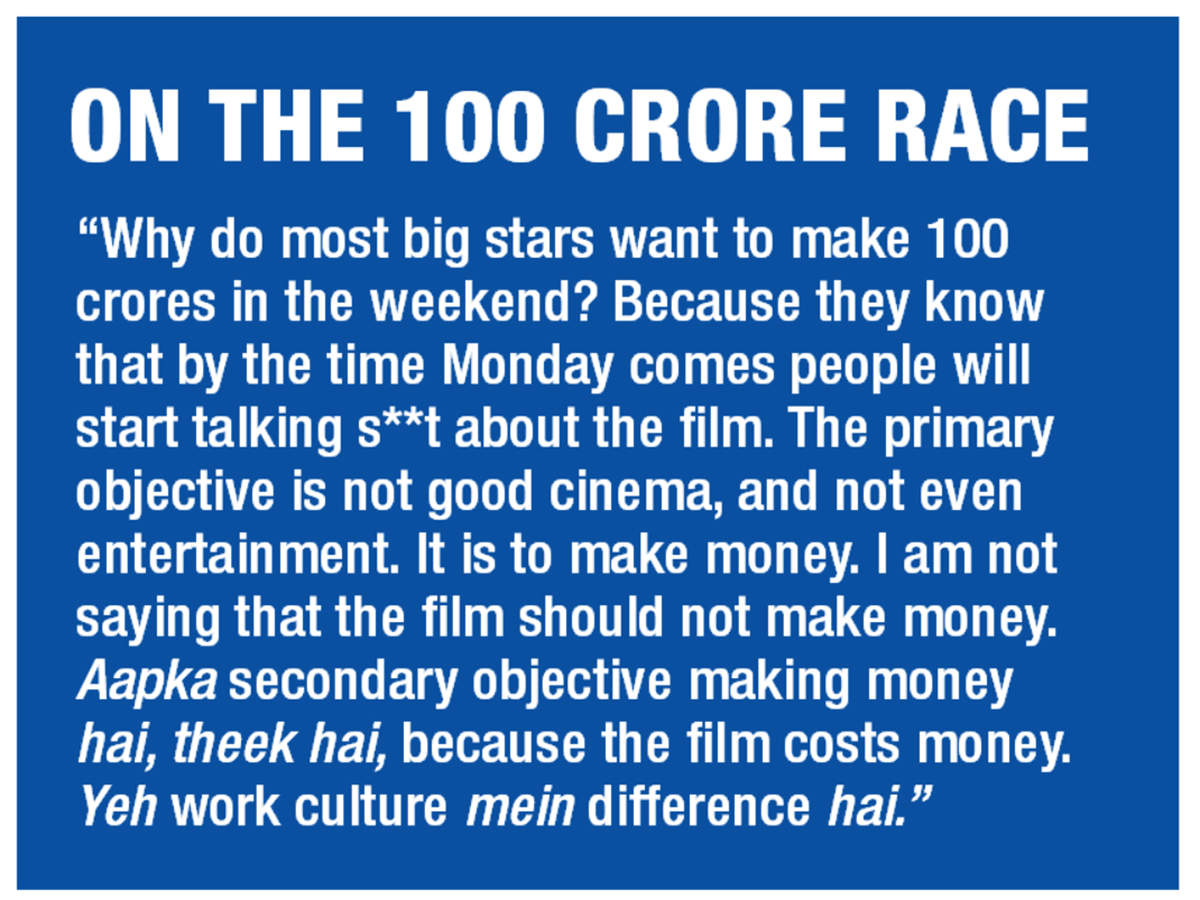 Nila: Can you sustain here if you are this rude, this direct?


Ranvir:
Woh joh hope
hota hai na –
ki mere ko bhi kabhi mainstream picture
milegi, 100 crore
ki picture
banegi –
woh toh inn logon ne pehle hi maar diya hai. So mere
ko fark nahi padta. I have stopped wanting to please those people for a while now. Thankfully, there are talented filmmakers like you who have faith in me. There are people like Rajat, Abhishek Chaubey, these are people who care about cinema, who care about making good films. I am very happy doing this.
Mere ko big reward
chahiye hi nahi, main small reward
mein khush hoon.
But many don't want to burn the chance they might get later of being accepted by the cabal. And you can't judge them for it either.
Nila: Is all this speaking out going to start a phase of transition?


Ranvir: The hoo-ha on social media with hashtags is not a reflection of what is happening in the real world. Once theatres open up, we might see a small difference in the disparity, the desperation and the despair that exists – that will be because of the presence of streaming platforms as a safety valve. But I have a feeling that the theatre game is going to go back to the same. I am a cynical man now. I have seen too much. Nothing really changes.
[ad_2]

Source link